'Childs Play is such a great place to build a child…I love the fact that Laurens' character today was shaped by your amazing home (not just nursery) for children, from the minute I walked into the nursery I knew it was a brilliant place!!!'
Chris Giddens – AKA Mrs Lauren
"We love Child's Play Nursery.  Our son Arthur went to Child's Play from age 2 to age 5 and we feel so fortunate to have had him there.  The staff are simply amazing, the way the centre is run is outstanding.  Arthur always loved going to Child's Play and was completely comfortable there.  The experiences that the children were given was second to none, the variety of activities they were exposed to was brilliant and the outdoor area was extensively used throughout the seasons.  The staff were always caring, thoughtful, and insightful.  The centre is managed superbly by Melanie and Vicki and the staff they recruit are the best.  I couldn't recommend Childs Play more highly.
Liz Mitchell – AKA Mrs Arthur
Dear Melanie (Childs Play Nursery School)
I truly believe your nursery school is very special and one of a kind. Since my daughter Katie attended a few years ago (she is now in Year 2 at Lime Tree Primary) she still has such fond memories of her special time there. When we visited you again recently you and your whole team were welcoming just like you have always been. Katie felt at home immediately and had such a fun trip down memory lane (that she did not want to leave) whilst I witnessed again, how dedicated you all are to your profession and your setting.
During Katie's time at your nursery school, I always knew she was in great hands when I saw that she was happy there. You've helped her to settle, learn and grow. Through your excellent care, nurturing and guidance, I felt she developed confidence, lasting friendships and learnt so much through the enabling environment you had created then and continue to provide. You also helped her to prepare for school and to make that important transition. I'll always be grateful for the great memories you have given to our precious Katie.
When I asked Katie to write a letter to you to say what she thought of your nursery, she said 'I'll write how I feel it mummy' and so she did.
Best wishes,
Lai Shum
(Katie's mummy)
Past pupil – Holly (aged 8)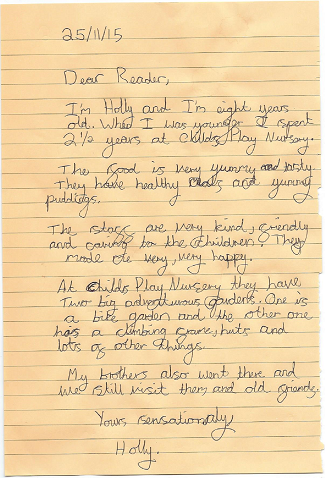 Would I recommend Child's Play Nursery in Surbiton to a new parent? Without hesitation!
Firstly, it's homely and welcoming; lived-in and truly honest. What you see when you drop the kids off in the morning is exactly what goes on throughout the day; kind, caring staff (many of whom have worked there for years) genuinely pleased to see the kids and spend the day with them.
Secondly, it's nurturing; because the nursery quota of children is few in number, the staff really get to know the kids and accommodate their differing needs and development at different paces.
Thirdly, they embrace the kids' own desire to choose their environment, whether inside or out. There are set times for stories and such-like, but complimented with tons of free time so that the kids can choose where they play and what they do. My three children spent most of the day in the garden (the bike garden in the morning and one, huge play garden, with wooden houses and play equipment and digging in the afternoon)!
 Lastly, the commitment to providing good quality, home cooked food is exemplary.
Even though we left Child's Play Nursery over two years ago the kids still ask to visit and when we do, we're made to feel welcome and the staff still remember them fondly.
Mel and her wonderful team deserve to be commended for the truly inspiration service they provide parents of Surbiton. They go way beyond what is expected. I wish them all the best of luck and continued success.
 Zoe Rourke, parent of Holly, Thomas and Luke